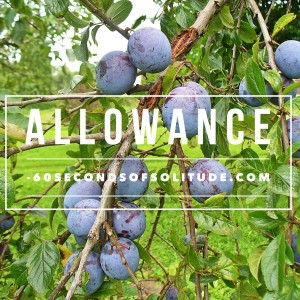 Today's word is allowance.
Listen to 60 Seconds of Solitude – your quick, easy, daily meditation.
Podcast Show Notes: Journaling Worksheet on ALLOWANCE is at 60secondsofsolitude.com/allowance
My thoughts: 
Today's word brings up 3 questions for me:
1) Are you allowing the space for what it is that you want? If you want a relationship with someone specific, are you allowing them to be themselves? Or are you trying to make them be who you want them to be? If you want more money, how do you respond when someone gives you something? If you reject money or a gift – how can more come to you?
2) Setting healthy boundaries…do you have a limit on how long you'll let yourself beat yourself up when you make a mistake? Or better yet, do you have a zero tolerance allowance for self-destruction? What type of allowance do you have for how others get to treat you?
3) $$$ "I bargained with life for a penny * And life would pay no more * However I begged at evening * When I counted my scanty store * For life is just an employer,
He gives you what you ask, *But once you have set the wages, * Why, you must bear the task. * I worked for a menial's hire, * Only to learn, dismayed, * That any wage I had asked of Life, * Life would have willingly paid." -Jessie Rittenhouse.  💗🙏🏻✌🏻️